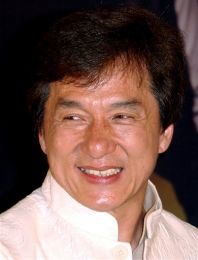 Jackie Chan (birth name Kong-sang Chan) was born on April 7, 1954 in Hong Kong. He is a very famous actor and besides that a singer, screenwriter, film director and producer, stunt performer and martial artist.
Biography and Career :
Jackie Chan was born Chan Kong-Sang (meaning Born In Hong Kong) on the 7th of April, 1954, naturally enough in Hong Kong. He was the only child of Charles and Lee-Lee Chan, having, reports say, spent 12 months in the womb, finally being removed surgically and weighing 12 pounds (his mum nicknamed him Pao-Pao, meaning Cannonball). Charles borrowed money from friends to pay for the operation, turning down the doctor's offer to take the child in payment. The family lived in a mansion in the exclusive Victoria Peak district. Not that his parents owned the mansion – Charles worked as a cook for the French Ambassador, while Lee-Lee was the housekeeper.
In childhood, he suffered terrible poverty and the most painfully rigorous of educations. In his early career, he was almost cast aside as just another in a long line of failed Next Bruce Lees. In perfecting his craft, he's broken his nose three times, and also cracked his ankle, most of his fingers, both his cheekbones and his skull (patched together with a steel plate). You can't say Jackie Chan hasn't paid his dues. But finally, after nearly 40 years in the business, the guy's reached worldwide stardom. As he always wanted, pretty much everyone knows his name.
Until now (2007) he has appeared in more than one hundred movies and received stars on the Hong Kong Avenue of Stars and the Hollywood Walk of Fame. Since 1984 he is a singer too and has released 20 albums and performed theme songs for films.
Some of his most popular movies are "Rush Hour", "Rush Hour 2", "Rush Hour 3", "The Medallion" or "Around the World in 80 Days". On December 1, 1982 he married Feng-Jiao Lin. The couple has one child, Jaycee Chan. In 1999, Chan all but acknowledged paternity of a daughter by 1990 Miss Asia Pageant winner Elaine Ng, although there has been no other corroboration of this.
In 1989 he won the Member of the Order of the British Empire for his services to entertainment and after ten years the Silver Bauhinia Star from the Chief Executive of the Hong Kong Special Administrative Region. He is a great person, very talented, who has a successful career and a great life.
Go back Famous Person