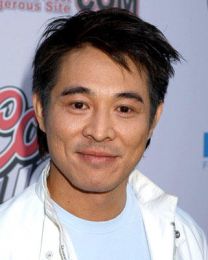 Jet Li was born on April 26, 1963 in Beijing, China. He is a famous actor.
Biography and Career :
World-renowned martial arts master and Asian film sensation Jet Li is currently starring in acclaimed director Yimou Zhang's Hero, nominated for a Golden Globe for Best Foreign Language Film (China).
Jet Li made his English-speaking film debut in the 1998 mega-hit franchise Lethal Weapon 4. A national treasure in his homeland of China, Jet Li portrayed the villainous Asian crime lord. The role was a complete change of pace for Jet Li, who, in his previous 25 films, had always portrayed the hero.
He was born in Beijing and enrolled in the Beijing Amateur Sports School for wushu training at the age of eight. His mentor, Coach Wu Bin, designed extra and more rigorous exercises for Jet Li, who demonstrated the natural talent and perseverance required for wushu training.
After three years of intensive instruction, Jet Li won his first national championship for the Beijing Wushu Team. As part of a world tour in 1974, he had the distinction of performing a two-man fight for President Nixon on the White House lawn.
For the next four years,Jet Li remained the All-Around National Wushu Champion.
He was discovered for films by Director Hsin Yen and offered the starring role in the historical epic Shaolin Temple, about a young monk whose father is killed by the Emperor's nephew. The film was an enormous success that spawned two sequels and propelled Jet Li to instant stardom.
Jet Li made the leap into Hong Kong films with the critically acclaimed box-office sensation Once Upon a Time in China for director Tsui Hark, which vaulted him into superstardom. The film proved so popular that Jet Li starred in three of its five sequels, including his last Asian-produced film, Once Upon a Time in China and America.
Now residing in Los Angeles, Jet Li continues to work with American filmmakers and studios. Jet Li starred in the hit film Romeo Must Die for producer Joel Silver and director Andrzej Bartowiak; Cradle 2 the Grave marks Li's second collaboration with this dynamic team. Teaming with TBS Superstation, Alliance Atlantis Communications and Mel Gibson's Icon Productions, he will soon be producing "Invincible", an original telefilm and series pilot. Featuring the ancient martial art wushu, American audiences can expect spectacularly choreographed, death-defying action sequences in the distinctive Hong Kong filmmaking style.
Go back Famous Person