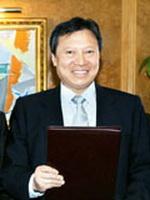 Walter Kwok Ping-Sheung, 1950-, born in Hong Kong with family roots in Zhongshan, Guangdong), one of three Kwok brothers (the other two are Thomas, Raymond) that inherited Hong Kong's giant real estate developer Sun Hung Kai Properties, is the chairman and CEO of that organization. Kwok, along with his brothers, inherited the firm in 1990 following their father Kwok Tak Seng's death.
Under the brothers' leadership, the company branched out into cellular phone service under the SmarTone name. They also control the Kowloon Motor Bus Company, a large bus operator in Hong Kong. Kwok's brothers are the second wealthiest people in Hong Kong, just after Li Ka Shing, the chairman of Cheung Kong Holdings and Hutchison Whampoa.
In 1997, Walter Kwok Ping-Sheung was allegedly kidnapped by the notorious gangster "Big Spender" Cheung Chi Keung, and was released seven days later without police intervention. Negotiations fronted by wife Wendy resulted payment of a ransom rumoured to have been in nine figures.
Following his arrest in Guangzhou in 1998, Cheung confessed that he had put Kwok in a wooden container blindfolded for four days, and fed him regular meals of roast pork with rice, until the ransom of some HK$600 million was paid. The ransom in 1,000 dollar notes was packed inside 20 large carrier bags and driven in two Mercedes saloon cars to a quiet lane in Central district. After the kidnap, the badly shaken Walter handed over the executive duties of SHKP to his younger brothers while retaining the title of Chairman and Chief Executive.
His parents introduced him to Lydia Ku, whom he married, but the marriage broke up six months afterwards. Later, he married his present wife, Wendy Lee.
Go back Famous Person